RZN Golf Balls Review by The Hackers Paradise
RZN Golf Balls are now available at Catalyst Golf. The Hackers Paradise posted this review recently including the history of the RZN technology.
You know the saying, what is old is new again. Well, as in life, that sometimes applies to golf equipment as well. 
With that, I would like to formally re-introduce you to…
RZN Golf Balls. 
Oh yes, that RZN, and without Nike. 
Behind the RZN
You are more than likely wondering if there is no Nike, then how are RZN golf balls being produced again? Well, that part is pretty simple, RZN Golf is producing the balls.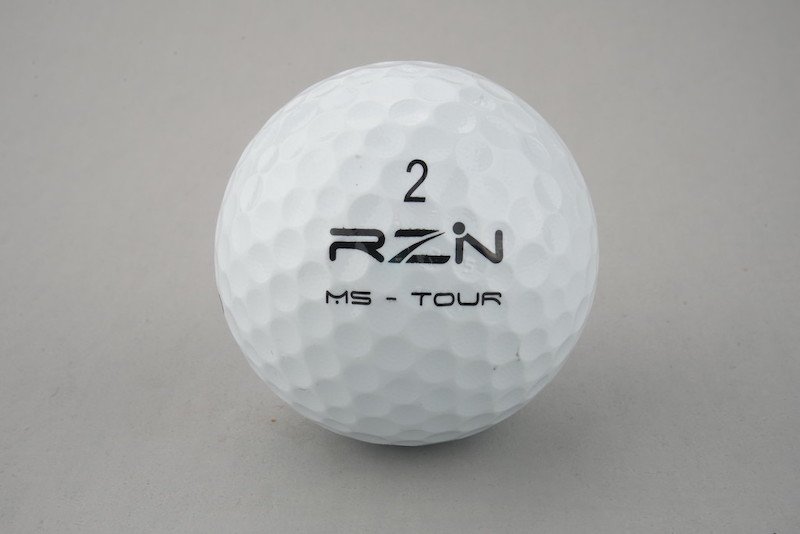 Now, who is that? Well, the currently named RZN Golf has actually been producing golf balls for Nike since 2006 and were a part of the development of the original 3-Piece RZN design so this isn't just someone grabbing a patent and producing things again. That in mind, I do want to address the 2006 date where production is concerned, because as we well know now (and THP had been saying it for years prior), Bridgestone Golf had been producing the Tour balls for Nike prior to the development of RZN. I only bring that up because the phrasing the company is using on producing Nike's golf balls since 2006 is accurate, they just cleverly leave out which golf balls.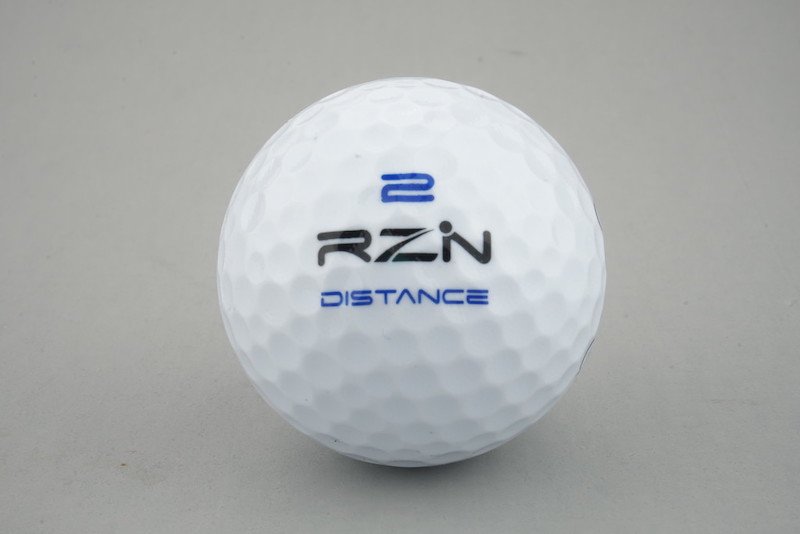 However, that doesn't really matter. The fact that they were heavily involved in working with Rock Ishii (a legend in golf ball development) through the RZN creation process is what matters most. So, you have people behind the re-introduction of RZN that are not only familiar with it but working to improve it. 
I was able to work with two of the four different golf ball models that they have brought to market, a urethane ball in the RZN MS-Tour and an ionomer ball in the RZN Distance. 
RZN Distance
I want to start with the ionomer offering first. The company actually has two, the Speed and the Distance. The Speed is a two-piece design while the Distance, which I worked with, is a three-piece design utilizing the RZN material core. So, what you get is a micro-dimple ionomer cover, mantle, and 3D Speed Lock Resin core engineered to be a ball that will "maximize distance with effortless swings while keeping a soft feel" at a pleasing $19.95 price.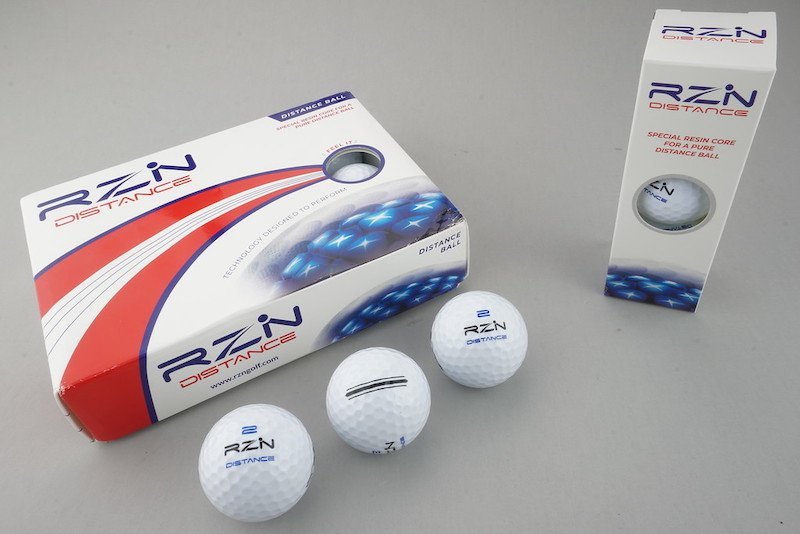 Looks wise, the discussion during testing on the THP forum was pretty pointed, namely at the logo itself being too big/awkward, and personally I agree only in the sense that it is what stands out most and not the pretty slick "micro-dimple" coating. Additionally, the alignment line, though effective, comes off as trying to be fancier than it needs to be. All that said, you cannot blame a company for trying to stand out visually, because if you don't at least try to do that then you will fade into the background noise.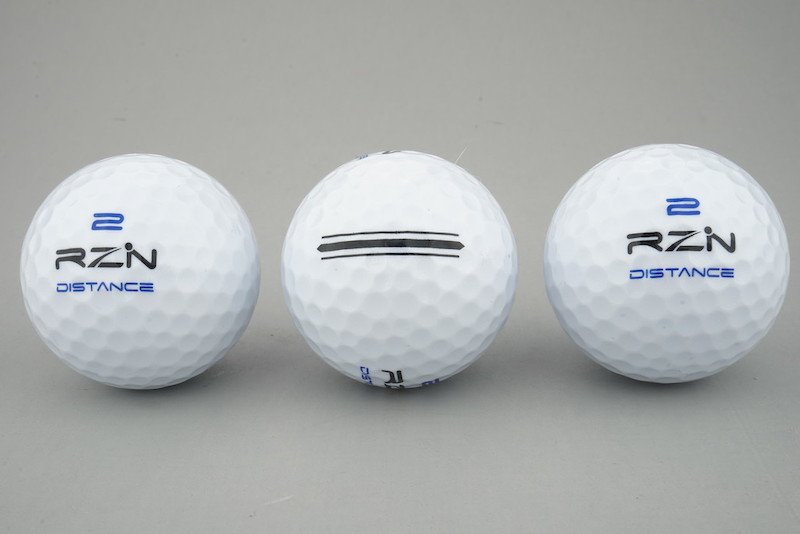 To work this one out, it and the MS-Tour were hit on the Foresight GC2 as well as ample practice and course time. While I'm not going to get to really dive into the data due to some technical hiccups, I can say without a shadow of a doubt the RZN Distance is what you would expect. Through the bag the launch came easy for me, and the spin stayed in the moderate range which really maximized the distance. Bigger though, was that there was absolutely no harsh or overly firm feedback which is what I had a dislike for with the original RZN options. To take that a step further, those old golf balls had some issues with temperature fluctuations, notably the cold, so I refrigerated some before testing and the numbers came back very comparable while the feel was not noticeably more harsh. In the end, this one is a playable ball, but it is an ionomer ball built for consistency and not spin, so if one plays for that, at $32.95 CAD it competes with others in the segment.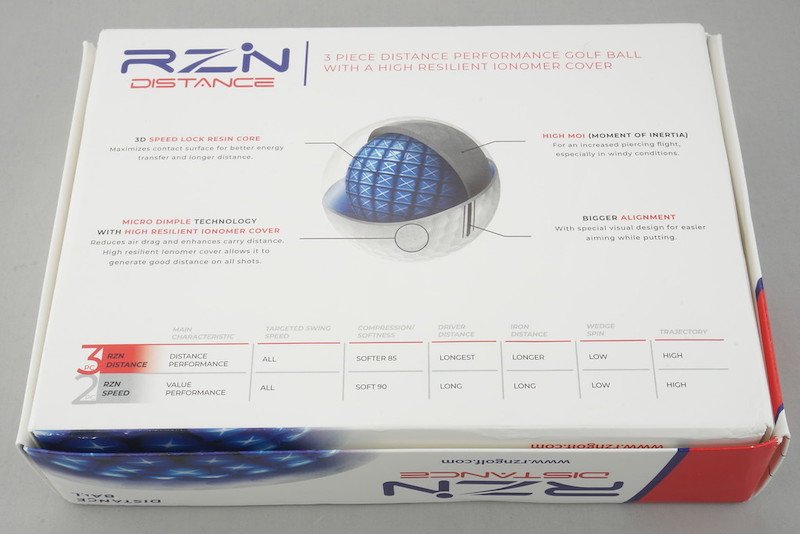 RZN MS-Tour
Like the ionomer offerings, there are two Tour level options as well, the MS-Tour which is a three-piece design aimed at mid-speed players and the HS-Tour a four-piece design. I was able to work with the MS-Tour featuring a wide diameter core, 3D Speed Lock mantle, and urethane cover with micro-dimples. As the company has labeled it, "A soft and powerful tour ball", but at a $44.95 CAD price tag that should turn some heads.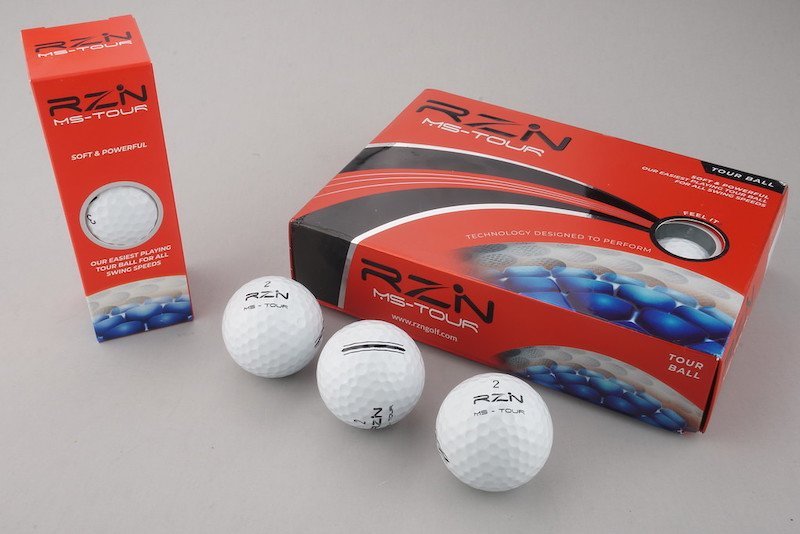 We do have to discuss this one aesthetically as well, and the feedback on the forum was pretty much the same. I'll again say, yes, I do think the logo is a bit bold, but the all black on this one makes it less noticeable. Also, the unique alignment line is going to be a love it or leave it thing for people, but it's an alignment line so I don't know how make or break that should be. The micro-dimple cover stands out a lot more on the urethane compared to the ionomer, and it looks pretty cool. One thing to note, with the two golf balls next to each-other, this one is a little more off white than the bright white Distance was. Not an issue to me, but I know some are sticklers about such things.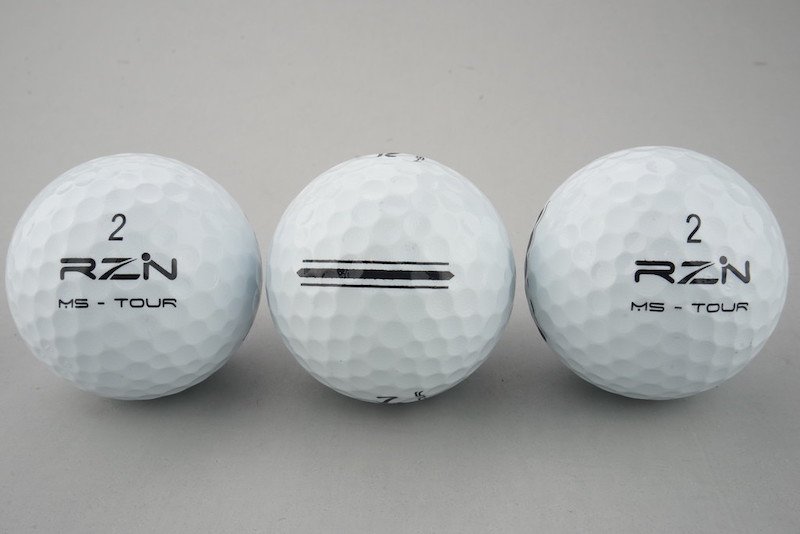 Like with the Distance, I worked the MS-Tour on the Foresight GC2 as well as on the course. As mentioned in the previous section, there were some technical difficulties on the data, so there won't be a deep dive. That said, these surprised me a lot. I will admit to not being a big fan of the Nike RZN golf balls, in fact I have been outspoken about it in the past, from the firmness to the effect of temperature fluctuations on the ball. Here with the MS-Tour I don't have either of those complaints. I was able to compress this one with relative ease, not only that, the numbers were solid from tee to green including wedges peaking in the high 9,000 RPM's, which for me is about as good as it gets. Beyond that, despite not being a "mid-speed" player, the ball reacted well to my SS, and I saw ample distance off the tee to match the wedge spin, and the durability was serviceable overall. For a ball at this price point there is a lot I came away impressed with.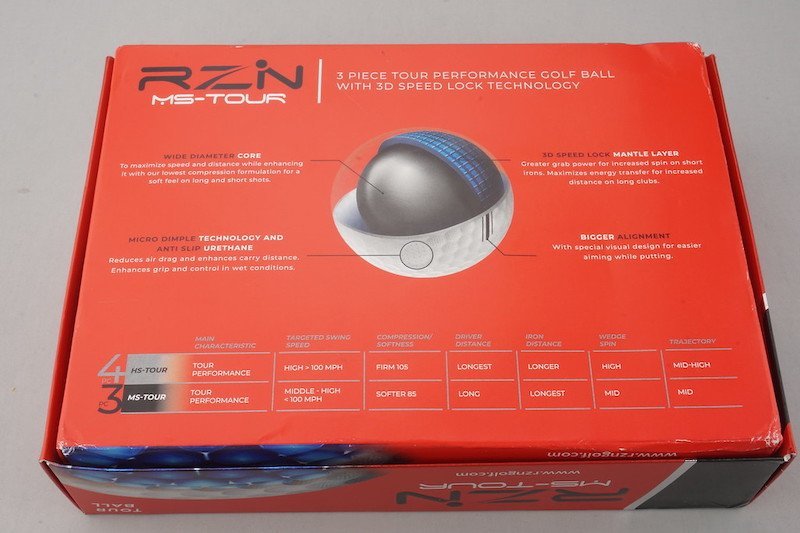 Though there are still some questions I have where design, other offerings, and where the company is headed from here designs wise are concerned, I walked away from this review with these in a positive light. At the price points, and with the RZN name recognition which might still have some weight out there, it'll be interesting to see who gives them a shot. 
Details:
Available: Now
Price: RZN Distance – $32.95 CAD/dozen and RZN MS-Tour – $44.95 CAD/dozen
---